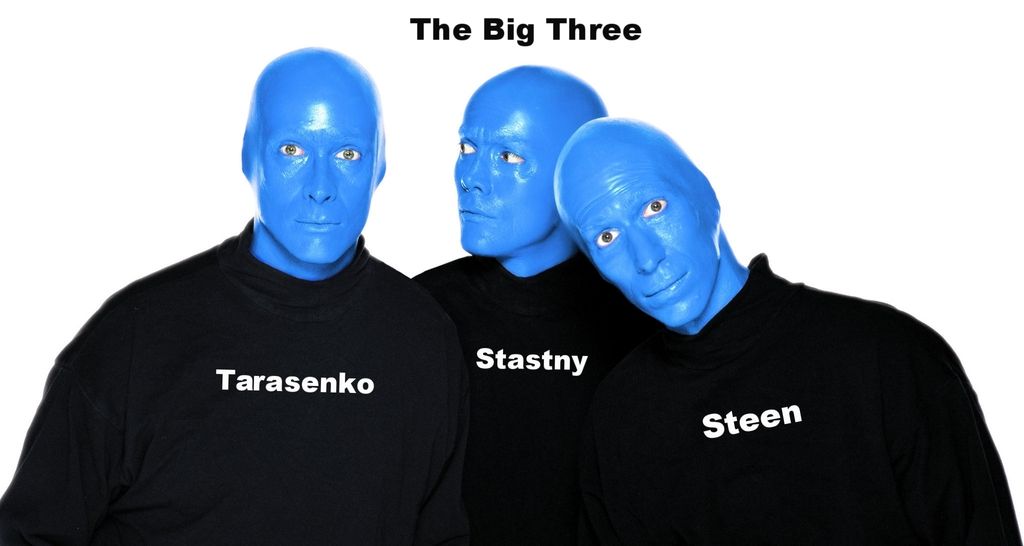 Big Three looking suave
Season Expectations:
Lord Stanley's cup!
Strengths This Season:
The Blues are leading the league in goals for with 187 in 48 games. 40 of those goals belong to Vladimir Tarasenko
and he has been able to lead this team to score a bunch of goals to make up for the poor play on special teams.
Season Struggles:
Our special teams has continued to fail us but I guess that can't stop us from winning!
PP thruogh 48 gp- 15.7% which is 27th in the league
PK through 48 gp- 74.4% which is dead last in the league
Through 48 games played 2015-1016 Season




35-11-2


Vladimir Tarasenko
- 40 goals 36 assists 48gp
Alexander Steen- 29 goals 37 assists 48gp
Paul Stastny- 24 goals 34 assists 45gp
Sam Gagner- 21 goals 23 assists 46gp

Lineup: [table][tr][th]Line[/th][th]LW[/th][th]C[/th][th]RW[/th][th]Notes[/th][/tr][tr][td]1[/td][td]Alexander Steen[/td][td]Paul Stastny[/td][td]Valdimir Tarasenko
[/td][td]All hail King Tarasenko and his subjects[/td][/tr][tr][td]2[/td][td]Jaden Schwartz[/td][td]Jori Lehtera[/td][td]Sam Gagner[/td][td]Sam Gagner suprised me with the numbers that he is putting up on this line and this line takes a lot of pressure off my first line and I hope all 3 guys on this line are here to stay for a long time[/td][/tr][tr][td]3[/td][td]Mason Raymond[/td][td]David Legwand[/td][td]Scottie Upshall[/td][td]Brought in Mason Raymond to help out with his speed to help this line out offensively and it seems to be working so far[/td][/tr][tr][td]4[/td][td]Steve Ott[/td][td]Jay McClement[/td][td]Scott Gomez[/td][td]Brought in McClement to help out on the PK but the PK is still very bad so Im still working on that[/td][/tr][tr][th]Extras[/th][td]Magnus Paajarvi[/td][td]Troy Brouwer[/td][td]-[/td][td]-[/td][/tr][tr][th]Pairing[/th][th]LD[/th][th]-[/th][th]RD[/th][th]Notes[/th][/tr][tr][td]1[/td][td]Jay Bouwmeester[/td][td]-[/td][td]Alex Pietrangelo[/td][td]Pretty much 2 extra forwards that are really good at defense[/td][/tr][tr][td]2[/td][td]Carl Gunnarsson[/td][td]-[/td][td]Kevin Shattenkirk[/td][td]Shattenkirk is having a very slow year offensively but that's ok... for now.[/td][/tr][tr][td]3[/td][td]Joel Edmundson[/td][td]-[/td][td]Justin Braun[/td][td]These guys are big and scary and not even Alex Ovechkin can beat them
[/td][/tr][tr][tr][th]Extras[/th][td][/td][td]-[/td][td]-[/td][td]-[/td][/tr][td]-[/td][th]-[/th][th]Goalies[/th][th]-[/th][th]Notes[/th][/tr][tr][td]-[/td][td]-[/td][td]Jake Allen[/td][td]-[/td][td]He better get his act together! .899 save % is not good![/td][/tr][td]-[/td][td]-[/td][td]Anders Lindback[/td][td]-[/td][td]He has our only shut out this season and in the few games that he has played in, he has done very well[/td][/table]