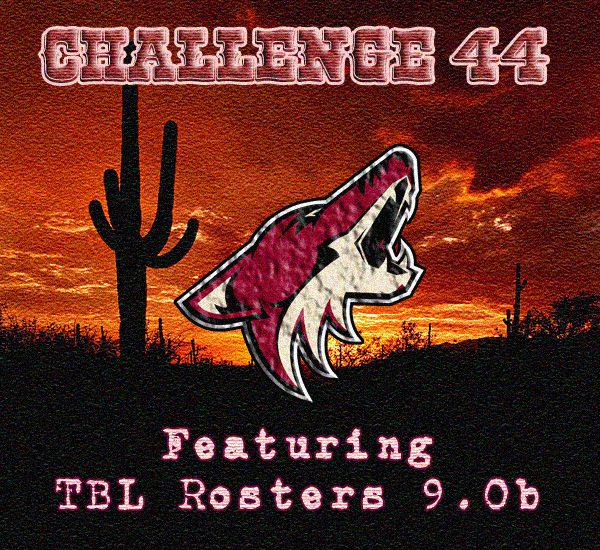 I'm pleased to announce our next challenge! This time around we'll be using the Arizona Coyotes. We've used them in the past but it's been quite a while. They're clearly the worst team in the league at this point but they've got a few players that should be fun to have on our roster.
The rules and setup laid out in this post supersede anything found in any other posts or old challenge rules!
So here is how this challenge is going to work...
First, download the
SAVED GAME
and put it in your Games folder. It's usually something like C:\Users\<Name>\Documents\Sports Interactive\EHM.
Next, launch EHM and load "Challenge 44 - ARI". Once the save has loaded you'll be brought to a placeholder GM. Go up to where it says "T.Challenge" and click the dropdown arrow. Select "Retire". You'll be brought to the screen where you can add a new GM. Add yourself (past experience set to "Automatic") and select the Arizona Coyotes as the team you'll control. At this point you may also add a GM for your AHL affiliate, the Tucson Roadrunners, if you'd like to control them as well.
We'll be starting the game with the standard U.S. start date. We're using a saved game file so that everyone is on even ground when it comes to player potentials (some players have random potentials which are determined when the game is created). At this time, you are allowed to hire and fire any non-player staff that you have. You may also offer contracts to any players that you own the rights that aren't currently under contract (shown under "Unsigned Prospects/Players"). You can also re-sign your players and staff that you have under contract already. Feel free to move players between your NHL and minor league rosters as you see fit.

There will be no trades, waiver claims, or UFA signings in the first season!
The second season starts July 1st.
The following rules with be enforced from this point...
Trades:
1 for 1, 1 for 2, 2 for 1, and 2 for 2 deals allowed.
You'll be allowed a total of 3 trades per season.
Any players involved in trades must be under contract. No "player rights" trading allowed!
There will be no age restrictions on players traded this time. In the past we limited it to younger players.
Draft picks are allowed as components of the deal, except 1st rounders. Only picks for the upcoming draft are allowed.
Example : Player for a 2nd round pick, 2 players for a 2nd and a 3rd round Pick, or Player for Player, and so on.
Budget:
We're not dealing with a budget this challenge. Just stay within the NHL salary cap and whatever budget the board gives you.
Others Points:
No waiver claims allowed!
UFA signing is allowed. Either 2 players for $525k or less OR 1 player for $1M or less allowed each season.
You may run your AHL affiliate. You don't have to coach the games for your affiliate. You can even "Go On Vacation" with your AHL GM and check in occasionally. What you do there is totally up to you.
You must coach your NHL games and you may NOT go on vacation with your NHL GM.
It's recommended that you keep backup saves in case you have to go back. I usually have a save for every quarter.
Standard stats logging and screenshots will be required!
Go
HERE
to upload your stats each quarter.
Go
HERE
to post your screenshots at the end of each season. Look at some of the other users screenshots from previous challenges if you're not sure what you should be taking screenshots of.
All challenge #44 talk goes
HERE
.
That should cover it. If you have any questions please ask in the forums. We've got many challenge veterans that can help answer many of your questions. Other than that, good luck!