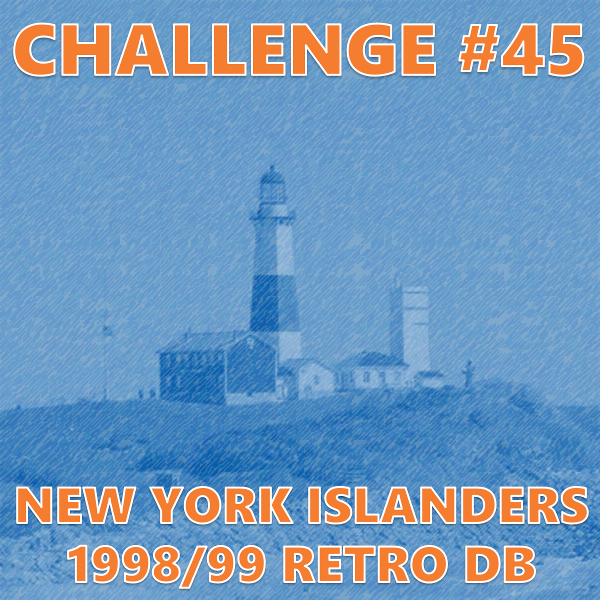 I'm happy to announce our latest TBL Challenge:
The New York Islanders
! Back by popular demand, we are returning to the 1998/99 Retro Rosters by CJ, Nino and Manimal. As with previous 1998/99 challenges, we will be starting from a saved game that you can download
HERE
.
All rules detailed in this announcement post supersede any rules listed in the challenge rules section.
For this challenge you'll put the saved game you downloaded into your saved games folder, usually something like this...
C:\Users\<computer_name>\Documents\Sports Interactive\EHM\Games
Next, launch EHM and load "Challenge 45 - Retro DB". Once the save has loaded you'll be brought to a placeholder GM. Go up to where it says "A. Turnip" and click the drop-down arrow. Select "Retire". You'll be brought to the screen where you can add a new GM. Add yourself (past experience set to "Automatic") and select the New York Islanders as the team you'll control. At this point you may also add a GM for your AHL affiliate, Lowell Lock Monsters, if you'd like to control them as well.
The rules for the challenge are as follows...
Trades:
No trading is allowed in season 1 until the 1998/1999 Stanley Cup Finals are over.
Trading opens once the 1998/1999 Stanley Cup Finals are over. After that, you're allowed to trade at any point the NHL allows you to.
No more than 2 assets can be involved on either side of a trade. This means you're allowed 1 for 1, 2 for 1, 1 for 2, and 2 for 2 deals.
You may not trade for anyone over the age of 25. You are allowed to keep your older players and re-sign them though.
Any players involved in trades must be under contract. No "player rights" trading allowed!
Draft picks are allowed as components of the deal, except 1st rounders.

Only picks for the next draft are allowed.

Example : Player for a 2nd round pick, 2 players for a 2nd and a 3rd round Pick, or Player for Player, and so on.
Budget:
The league has a salary cap of $48m.
The team we'll be taking over has $31.37m in contracts but the Averaged Club Salary (which is what the cap looks at) is only $28.815m.

We'll be enforcing a challenge budget of $34m

(that's the Averaged Club Salary).
Others Points:
No waiver claims allowed!

UFA signing is allowed (so long as the player is not over the age of 25 years old). Either 2 players for $525k or less OR 1 player for $1M or less allowed each season (going by cap hit).

No restrictions on staff hiring and firing other than you have to wait until July 1st of that first season to do any of it. After that, it's open season!
You may run your AHL affiliate. You don't have to coach the games for your affiliate. You can even "Go On Vacation" with your AHL GM and check in occasionally. What you do there is totally up to you.

You must coach your NHL games and you may NOT go on vacation with your NHL GM.
Beyond that, normal challenge rules apply. Please ask if you have any questions. Save often and keep backup to certain dates in case you have to go back due to a crash or rules infraction. Also, in the game preferences, be sure to disable compressed saves. This has caused corruption in the past.
All challenge talk goes
HERE
.