This is a 2014/15 roster update for Eastside Hockey Manager: Early Access. This is the fourth version to be released this season, but is the first for EHM:EA.
If you have any questions or want more information about the roster update, visit here:
http://www.ehmtheblueline.com/forums/viewforum.php?f=45
Enjoy!
CHANGELIST:
First release to support EHM Early Access
Updated teams and rosters for the following:
> NHL, AHL and ECHL
> Austrian EBEL
> British EIHL, EPL and NIHL-1
> Finnish Liiga
> Latvian Elite League
> Russian KHL
> Slovakian Extraliga
> Swedish SHL and Allsvenskan
> Swiss NLA
Re-rated players in the Swedish SHL and made a start in re-rating the Allsvenskan
Updated injuries, contract extensions and jersey numbers for the NHL
Updated player career histories for:
> Finnish Liiga & Mestis (90% of contracted players updated)
> Swedish SHL & Allsvenskan (90% of contracted players updated)
Add some missing ECHL players
Added missing players from the top 60 WHL 2014 draftees
NHL draftees updated
Added around 250 missing teams (predominantly Finnish and Swedish junior teams)
Added several missing leagues (predominantly Finnish junior leagues)
Updated league champion data for all playable leagues and certain non-playable leagues
Updated IIHF rankings and tournament standings data
Various tweaks have been made now that certain limitations in EHM 2007 are no longer an issue in EHM Early Access:
> Updated league names for various leagues (e.g. the Swedish Elitserien is now the SHL and the Russian Superleague is now the KHL)
> Restored the NHL salary cap and floor back to their real life values
> Restored Consistency ratings for forwards to the full 1 – 20 scale
> Restored Temperament ratings for all players (these are now set to zero so that the game can create appropriate values)
Download [EHM 2007 Format]: http://1drv.ms/1IDKxe0 (See the guide below on how to import the database into EHM:EA)
How to import the EHM 2007 database using the Import function in EHM:EA
1. Extract the database to your
/data/database/
folder.
2. Load EHM:EA and click on "Import Database" from the main menu screen.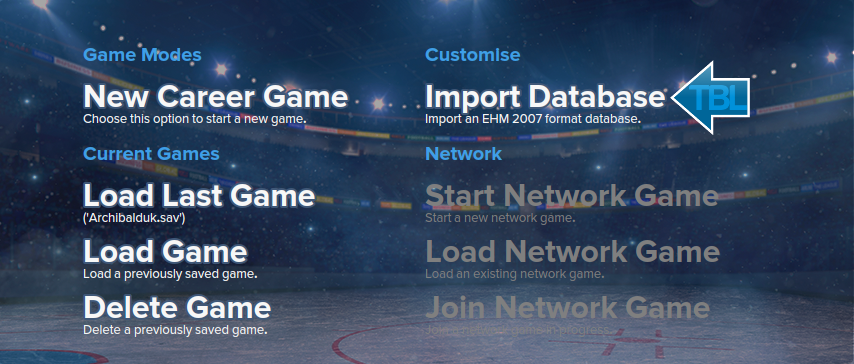 3. You will be prompted to select the EHM 2007 database to import. The start year is listed in brackets next to the name of each database. Click on OK and the game will start converting the database.
4. The process can take around 5 minutes. Once it is complete, you can select your imported database like usual from the "New Game" button.
Please visit this thread if you have any problems/questions:
http://www.ehmtheblueline.com/forums/vi ... 82#p180850